Savory Neighborhood Grill is your local haven for Neapolitan-style pizza and creative cuisine. Our pizzas, made from local Shepherd's Grain flour, are hand-stretched to perfection. From classics like Pepperoni and Cashew to unique creations like Cacio e Pepe, our pizzas celebrate the pure essence of ingredients. Our shareables, including Fish Tacos and Poutine, are perfect for sharing. We also offer delectable handhelds, such as the Savory Burger and Korean Buffalo Chicken. If you're craving something heartier, don't miss our mains like Short Rib Pappardelle and Portuguese Mussel Fettuccine. Finish with sweet delights like Beignets and Vanilla Bean Panna Cotta.
Join us at Savory Neighborhood Grill for a culinary adventure that's truly savory.
Blackened whitefish, cabbage, chipotle mayo, peach salsa, cilantro, and kolrabi slaw.

Mussels, onion, garlic, tomato broth, Spanish chorizo, charred lemon, and grilled baguette.

Crispy fries, short rib gravy, cheese curds, green onion, fried egg, bacon jam.

Burrata and Seasonal Fruits

$14

Fresh Burrata, olive oil, black pepper, arugula, seasonal fruits, flatbread.

Sourdough, melty cheese, garlic oil, herbs, and marinara.

Blistered Shishito peppers, honey miso, furikake.
All handhelds come with crispy fries. Add side salad +$4
6 oz. ground steak patty, bacon jam, bleu cheese, arugula, pickles, roasted serrano mayo, brioche bun.

Korean Buffalo Chicken*

$16

6 oz. fried chicken breast, Korean buffalo sauce, Asian slaw, cilantro, pickles, green onion, chile mayo, brioche bun.

Roasted beef, Italian grilled pork sausage, pepperoni, diced onion, bell pepper, provolone cheese, ranch, hoagie roll.

Shaved iceberg, Italian dressing, sliced provolone, capicola, pepperoni, salami, banana peppers, red onion, and tomayo on a hoagie roll.

Roasted mushroom, tzatziki, shaved onion, arugula, whipped feta, marinated tomato, pepperoncinis on flatbread.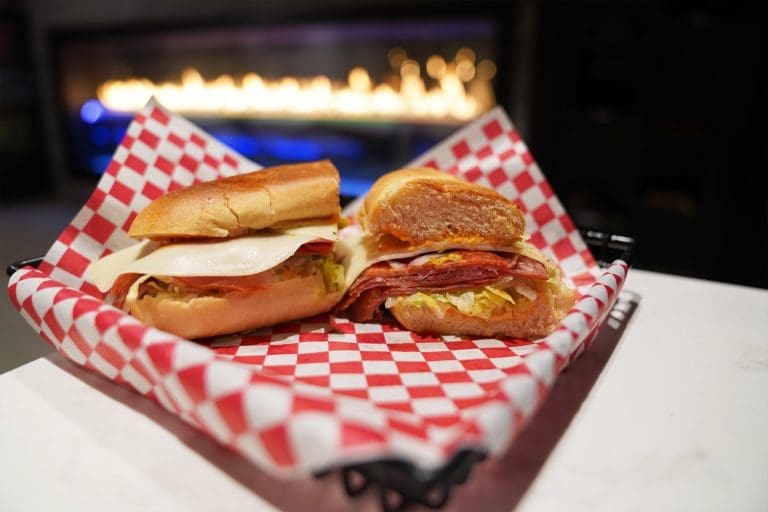 Red sauce, cheese blend, cupping pepperoni, roasted cashews, hot honey.

Red sauce, cheese blend, Canadian style bacon, fresh pineapple, shaved serrano's, bacon bits.

Red sauce, cheese blend, pepperoni, bacon, crumbled Italian sausage, Canadian bacon.

Red sauce, oven roasted tomatoes, torn basil, fresh burrata, sea salt, red pepper flakes, olive oil.

Not your average cheese pizza, white sauce, cheese blend, fresh cracked black pepper.

White sauce, cheese blend, shaved fennel, Italian sausage, garlic, shaved parmesan.

White sauce, roasted mushroom blend, aromatics, shaved onions, garlic, parmesan.

Prosciutto and Arugula

$17

Olive oil, cheese blend, crispy prosciutto, arugula, charred lemon, shaved parmesan.
Short Rib Pappardelle*

$16

Braised short rib gravy, pappardelle pasta, sour cream, parmesan, dill, grilled bread.

Portuguese Mussel Fettuccine*

$21

Mussels, tomato broth, garlic, Spanish chorizo, charred lemon, herbs, butter, grilled bread.

Grilled 8oz baseball cut, chimichurri, bleu cheese fries, and seasonal vegetables.

Cheesy green chili polenta, achiote grilled Cornish game hen, seasonal vegetables.
Mixed greens, cucumber, roasted tomato, roasted garlic ranch. Add chicken +$6 | Add 4 oz. steak +$8

Lettuce blend, banana peppers, olive, salami, provolone, olives, chickpeas, champagne vinaigrette.

Iceberg wedge, bleu cheese crumbles, bacon bites, oven roasted and marinated tomatoes, grilled sirloin steak, golden balsamic dressing.

Chopped greens, grilled chicken, avocado, roasted tomato, bacon bits, cucumber, fried-egg, cayenne-bleu cheese dressing.
Lemon curd, confectioners sugar.

Vanilla Bean Panna Cotta

$12

Vanilla bean, cream, carbonated sugar, bourbon syrup, and guafrette.

Flourless Chocolate Torte

$10

Toasted pecans and hot fudge.

Vanilla Ice cream, churro, dulce, hot fudge.

Peanut butter toffee bar, chocolate brownie ice cream, topped with warm cinnamon roll churros and dulce de leche. Shareable for the table.
Comes with a side of fries or a fruit cup, side of ranch

Comes with a side of fries or a fruit cup

Scoop of vanilla ice cream, hot fudge, maraschino cherry

Two churros with cinnamon sugar and dulce
Self serve Coke products.

Miller Light, Pabst Blue Ribbon, Corona, Black Butte Porter, and Truly.

Twisted Tea, Cayman Jack Margarita, Dry Fly Huckleberry Lemonade, and Dry Fly Moscow Mule.
Goose Ridge Merlot

$10 | $50

Bottle Creek Pinot Noir

$12 | $65

Clos de la Siete Argentina Red Blend

$14 | $60
Rodney Strong Chardonnay

$8 | $44

Diora Chardonnay

$11 | $46

Maryhill Rose of Sangiovese

$8 | $40

Drumheller Cab Sav

$8 | $34